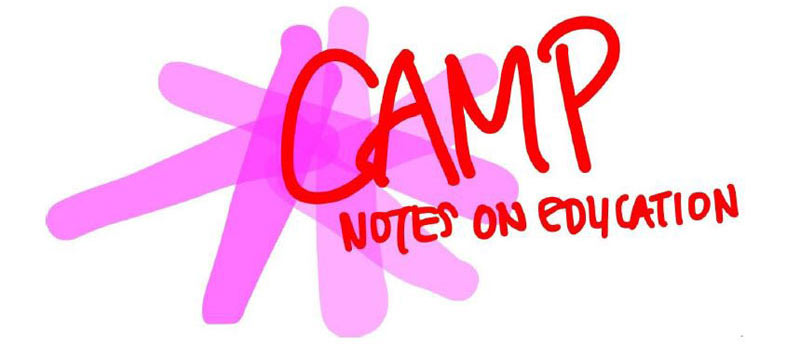 With its innovative concept of 'art' from the global south, documenta fifteen provides decisive impulses for the reorientation of art education worldwide. For this reason, EVC is working closely with the "CAMP - NOTES ON EDUCATION" project (LINK) within the framework of documenta fifteen. In 2021 and 2022 we will join our efforts to develop new content, methods and formats for art education in a globalised world. The Chair of Art Education at the University of Augsburg (LINK) forms the interface between EVC and "CAMP - NOTES ON EDUCATION".
---
In a first phase, and in cooperation with our partner at the University of Hildesheim (LINK), EVC organises a Lecture Series on "Arts. Cultures. Policies. Educational Practices - Concepts and Approaches Worldwide". The lectures start at 12:00 CET (Central European Time). Dates and speakers:
30.09.2021: Antje Budde (Toronto/Canada): Learning. Pleasure. Agency. Notes on A/I (artistic intelligence) and digital dramaturgy as experimental performance Read More

14.10.2021: Emily Akuno & Mary Clare Kidenda (Nairobi/Kenya): Music Education in Kenya - Persistent Thoughts by Emily Achieng' Akuno; The Role of Competency-Based Education and Training to Enhance the Quality of Design Practice and Planning in Jua Kali artisan's Skills as a Community of Learners in Kenya by Mary Clare Kidenda Read More

28.10.2021: Samuel Ravengai (Zimbabwe/South Africa), Yongfei Du (China), Milena Valeva (Bulgaria): Postcolonialism and Arts Education: African Perspectives by Samuel Ravengai; Nonprofit-Organisations and sustainable regional development on the example of the Bulgarian Chitalishte by Milena Valeva Read

More



25.11.2021: Patrique deGraft-Yankson & Osuanyi Quaicoo Essel (Winneba/Ghana): In search for definition: Investigation into the Concept and Context of Ghanaian art

-

starting at 11:30 am CET (Central European Time)

Read more

09.12.2021: Meriam Bousselmi (Tunisia): The Mergoum Protocol: Typically Tunisian, (A)typically German? On Cross-Cultural Exchange
20.01.2022: Charlene Rajendran & Chee-Hoo Lum (Singapore): Listening to Performances of Difference: Negotiating Multiplicity with Dialogic Empathy by C. Rajendran: Sounding out Matters of the Nation through Visual Arts Education: Pedagogical Cues from Singapore Contemporary Artists by Lum Chee Hoo
27.01.2022: Timo Jokela (Finland): North and the Arctic as a laboratory for sustainable art education: revitalizing Indigenous and Northern knowledge systems
10.02.2022: Avi Sooful (Pretoria/South Africa): tbc
17.02.2022: Pepetual Mforbe & Paul Henri Souvenir Assako Assako (Yaounde/ Cameroon): From the "art of places" to "the place of art": decolonization of culture and development of a transcultural dialogue by Paul H. S. Assako Assako; People Theatre: Journeying through Experiences of Critical Awareness and Consciousness-raising by Pepetual Mforbe
---
Parallel to this lecture series, all EVC partners are setting up local regional teams to structure the cooperation within the framework of documenta fifteen. The University of Augsburg's partner from Shandong in China will also be invited. The teams will meet for workshops from February to April 2022.
In a third step these teams bring their results to an International Summer School. The Summer School discusses questions of contemporary art education in the context of documenta fifteen. It will take place in Kassel in August 2022, organised by the University of Augsburg as the centrepiece of EVC's efforts.
Finally, in October 2022, University of Augsburg and EVC will organise a concluding Congress "Art Education Global", at which the experiences made will be documented, reflected upon and evaluated in order to develop forward-looking concepts of education in the context of globalisation.