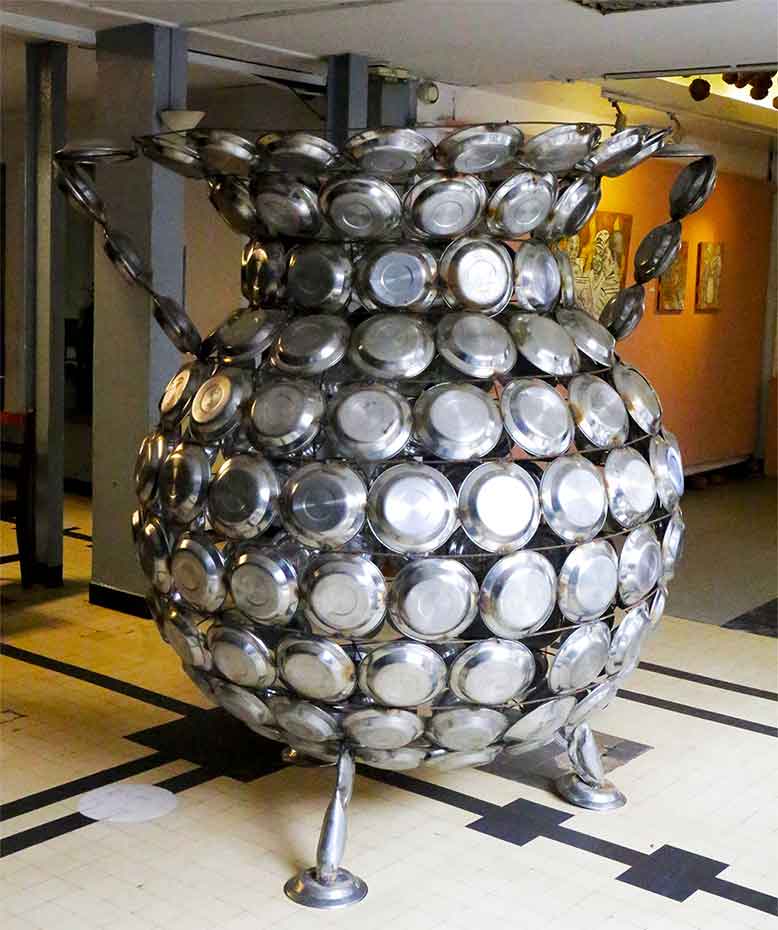 Grâce Dorothée TONG: Ntu, 2022, métal et aluminium, 300 × 200 cm
FR: Nourrie par ses nombreux déplacements dans des familles d'adoption et orphelinats, Ntu est une sculpture qui a la forme des anciennes marmites en fonte d'aluminium. Elle est constituée de 250 plats en aluminium, dont 50 collectés dans des orphelinats de Douala. Ces plats soudés les uns aux autres sont superposés sur des bandes horizontales en fer et l'ensemble est porté par trois pieds.
D'une part, cette sculpture représente pour l'artiste le souvenir de sa vie dans les orphelinats, le renforcement de liens entre les pensionnaires et elle rappelle l'importance du plat en aluminium, encore appelé plat inox dans ce milieu. D'une certaine manière, ils sont des armoiries qui montrent à quelle classe sociale on appartient à travers des ustensiles de cuisine. D'autre part, à travers sa forme incurvée, la macocotte offre une cuisson adaptée aux foyers rudimentaires, ainsi qu'une résistance mécanique à toute épreuve avec d'excellentes conditions thermiques pour une cuisson rapide. Cette œuvre commémore un savoir-faire et le goût de certaines saveurs traditionnelles qui se font de plus en plus rares.
EN: Ntu is a sculpture in the shape of an old cast aluminium pot, inspired by the artist's many visits to adoptive families and orphanages. It is made up of 250 aluminium dishes, 50 of which were collected from orphanages in Douala. These dishes are welded together and placed on top of each other on horizontal iron bands and the whole is supported by three legs.
On the one hand, this sculpture represents the memory of the artist's life in the orphanages, the reinforcement of links between the boarders and it reminds the importance of the aluminium dish, still called stainless steel dish in this environment. In a way, they are coats of arms that show to which social class one belongs through kitchen utensils. On the other hand, through its curved shape, the macocotte offers a cooking adapted to rudimentary stoves, as well as a mechanical resistance with excellent thermal conditions for a fast cooking. This work commemorates a know-how and the taste of certain traditional flavours that are becoming increasingly rare.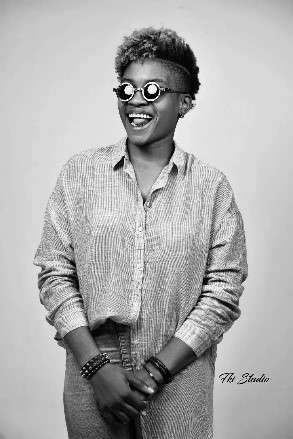 FR: Tong Grace Dorothée est une artiste qui vit et travaille à Douala. Elle est titulaire d'une licence en arts plastiques et histoire de l'art de l'Institut des Beaux-Arts de Nkongssamba à l'Université de Douala. Dans ses récents travaux, elle s'attèle à question de la construction d'une idée qui s'épanouie dans la multiplicité des liens interpersonnels. Elle fait sa première exposition individuelle à l'Institut Français du Cameroun en 2022, participe aux Rencontres d'Arts Visuels de Yaoundé (RAVY) en 2021. Elle participe également à plusieurs expositions collectives entre 2019 et 2021. En 2019, elle fait partie des artistes sélectionnés pour l'exposition au Musée National organisée par la Banque Mondiale.
EN: Tong Grace Dorothée is an artist who lives and works in Douala. She holds a degree in fine arts and art history from the Institute of Fine Arts of Nkongssamba at the University of Douala. In her recent work, she focuses on the construction of an idea that flourishes in the multiplicity of interpersonal links. She had her first solo exhibition at the French Institute of Cameroon in 2022, and participated in the Rencontres d'Arts Visuels de Yaoundé (RAVY) in 2021. She also participated in several group exhibitions between 2019 and 2021. In 2019, she was among the artists selected for the exhibition at the National Museum in Yaoundé organised by the World Bank.