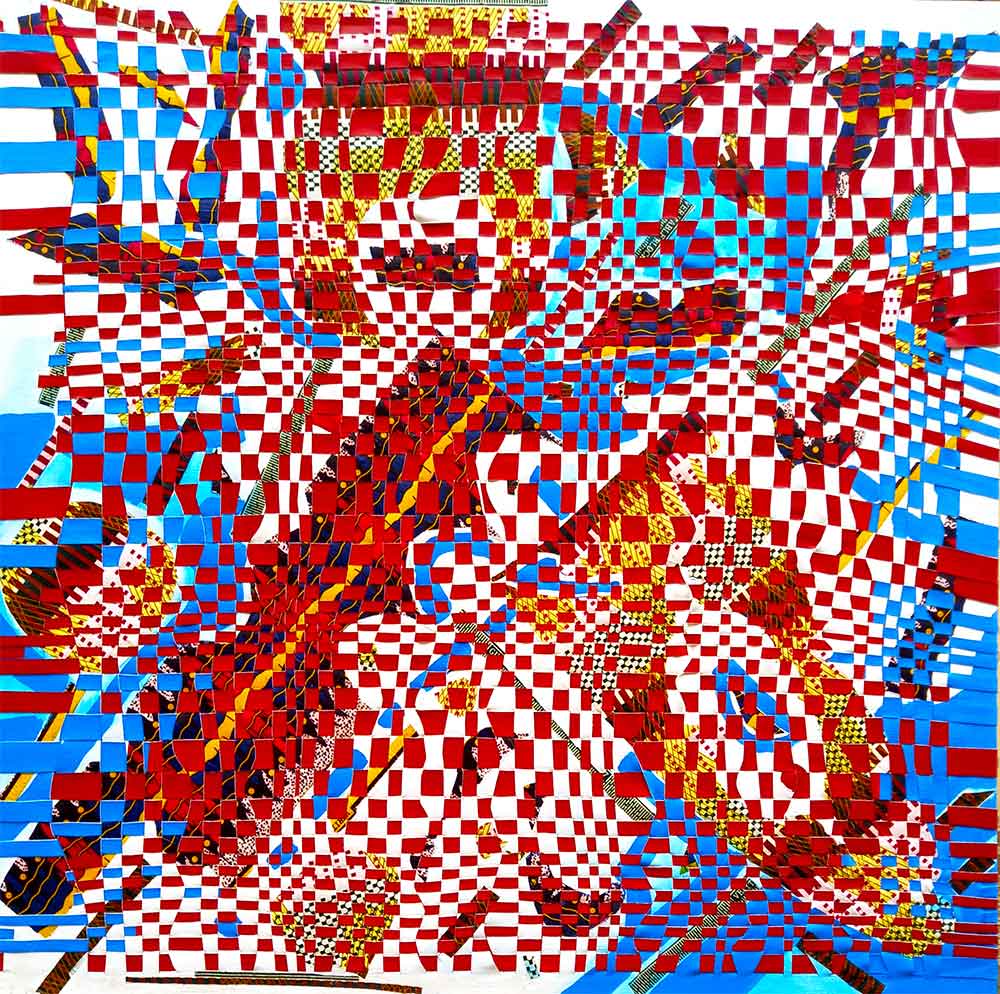 Aurélie Djiena: Les retrouvailles, 2022, tissage et acrylique sur toile, 100 × 100 cm
FR: Dans cette œuvre est réalisée dans le cadre d'une série où le lien est au cœur de sa problématique. C'est une œuvre qui contient plusieurs points forts. Dans une première analyse, il s'agit du lien entre l'abstraction géométrique qui renvoie aux techniques de tissage locales et de l'abstraction lyrique, aux états d'âmes mais aussi aux émotions. La seconde concerne l'artiste qui crée un lien entre le public et elle autour d'une collaboration créative. Dans un premier temps, elle invite des personnes à s'exprimer sur une toile dans laquelle elle reviendra intervenir avec sa technique de tissage. C'est dans le résultat de cette démarche que l'artiste trouve l'essence d'une mémoire collective comme le fruit d'une construction. C'est un bien qui participe à créer une narration qui offre une grande perspective de vision. Pour l'artiste il est question d'écrire notre histoire à travers plus de perspectives, puisque que l'histoire à elle seule ne peut pas toujours tout englober.
EN:This work is part of a series in which the link is at the heart of the problem. It is a work that contains several strong points. In the first analysis, it is about the link between geometric abstraction, which refers to local weaving techniques, and lyrical abstraction, to states of mind but also to emotions. The second is about the artist creating a link between the public and herself around a creative collaboration. First, she invites people to express themselves on a canvas in which she will return to intervene with her weaving technique. It is in the result of this process that the artist finds the essence of a collective memory as the fruit of a construction. It is an asset that participates in creating a narrative that offers a great perspective of vision. For the artist it is a question of writing our history through more perspectives, since history alone cannot always encompass everything.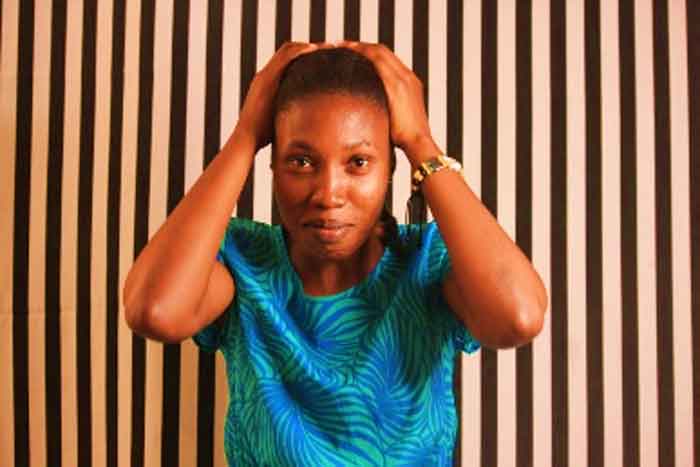 FR: Née en 1993 à l'Ouest-Cameroun, Aurélie DJIENA vit et travaille à Douala. Titulaire d'un master de l'Institut des Beaux-Arts (IBA) de l'Université de Douala à Nkongsamba, elle fréquente les ateliers d'Hervé Youmbi, de Jean Jacques Kanté et de Kristine Tsala. Inspirée par Vasarely et Yaacov Agam, son œuvre picturale mélange le tissage et l'acrylique sur toile. Ses créations se caractérisent par la répétition de formes géométriques carrées ou rectangulaires qui rappellent le damier. Elle utilise aussi les techniques de vanneries et de tissage qui lui ont été transmises par ses parents eux-mêmes vanniers pour créer des illusions optiques. «Toile de vie» est un polyptique de 10 pièces réalisée en 2019 qui gagne le ''Prix Découverte'' de l'Institut Goethe Kamerun. Elle fait partie des 30 artistes de l'exposition « Aujourd'hui » organisée par la Banque Mondiale en 2019. Elle obtient un Prix SCB Cameroun Spécial Femme à l'occasion de la 4ème édition du Festival Salon Urbain de Douala (SUD) 2017 avec son œuvre « Symphonie quotidienne ».
EN: Born in West Cameroon in 1993, Aurélie DJIENA lives and works in Douala. She holds a master's degree from the Institute of Fine Arts (IBA) of the University of Douala in Nkongsamba, and attended the workshops of Hervé Youmbi, Jean Jacques Kanté and Kristine Tsala. Inspired by Vasarely and Yaacov Agam, her pictorial work mixes weaving and acrylic on canvas. Her creations are characterised by the repetition of square or rectangular geometric shapes reminiscent of the checkerboard. She also uses the basketry and weaving techniques passed on to her by her parents, who are also basket makers, to create optical illusions. "Toile de vie" is a polyptych of 10 pieces created in 2019 which won the "Prix Découverte" of the Goethe Institute in Cameroon. She is one of the 30 artists in the "Today" exhibition organised by the World Bank in 2019. She won a SCB Cameroon Special Woman Prize at the 4th edition of the Douala Urban Salon Festival (SUD) in 2017 with her work "Daily Symphony".