The German EVC-team (Ernst Wagner, Janina Baldhuber, Annette Schemmel, Tim Proetel, Georg Schatz) visited the partners at University of Education Winneba (Patrique deGraft-Yankson, Ebenezer Kwabena Acquah, Osuanyi Quaicoo Essel, Joseph Essuman, Eric Sakyi Nketiah, Joseph Gertrude NkrumahYaw, Sekyi-Baidoo, Selasi Awusi Sosu) for a working meeting and mutual exchange. This was also intended as a return visit to the Winneba team's visit to Munich / Venice in 2019, which had to be postponed again and again due to the pandemic. The aim was to better understand the situation in Winneba, to develop joint practice formats, to deepen the friendship and to plan further cooperation.

In Winneba, the group visited the studio of Theophilus Mensah (art educator at UEW and a sculptor) first. Theophilus Mensah has recently installed a series of sculptures and installations in the urban space of Winneba, which were visited together. On this occasion, especially the role of art in public space was intensively discussed.

On the second day, art lessons at a Public Senior High School in Winneba were not only visited but also co-created by Annette Schemmel and Tim Proetel. This provided interesting insights into everyday school life, the various didactic concepts and teaching conditions. A reception with the Acting Vice-Chancellor of the University of Education, Winneba, Professor Andy Ofori-Birikorang led to a deepening of exchange and to a joint reflection on the previous, joint cooperation. In the afternoon, Eric Sekyere Appiah, a post-graduate student, presented a highly interesting project for an Image Library of students' artworks in the School of Creative Arts, UEW.

On the third day, there were diverse and stimulating presentations by post-graduate students who presented their research projects on Visual Culture in different regions and areas of Ghana. The day continued first with a discussion with Executives of the Art Teachers Association of Ghana (ATAG) on cooperation at NGO level with the German Art Teachers Association (BDK). Both sides decided to launch a joint competition for good teaching concepts. This was followed by an important coordination meeting on further cooperation and next steps.

Via Cape Coast Castle, which played an important role in the slave trade, the group then went to Kumasi to visit another important training centre for artists: blaxTARLINES at Kwame Nkrumah University of Science and Technology. There was a symposium the following day, where first Ernst Wagner presented the EVC project, followed by further presentations by lecturers and students on individual projects. Afterwards, the group visited a large exhibition of students' final projects as well as individual studios, but also traditional workshops (pottery, weaving and fabric printing) from the Ashanti culture.

On the last day, the group returned to Accra, where the joint delegation visited the Merian Institute for Advanced Studies in Africa (MIASA), which is co-financed by the Federal Ministry of Education and Research, and discussed the issue of restitution with two representatives. Deeply impressed by the great hospitality, the German delegation said goodbye to their Ghanaian hosts.
Download a detailed report by Dr Ebenezer Acquah: Link.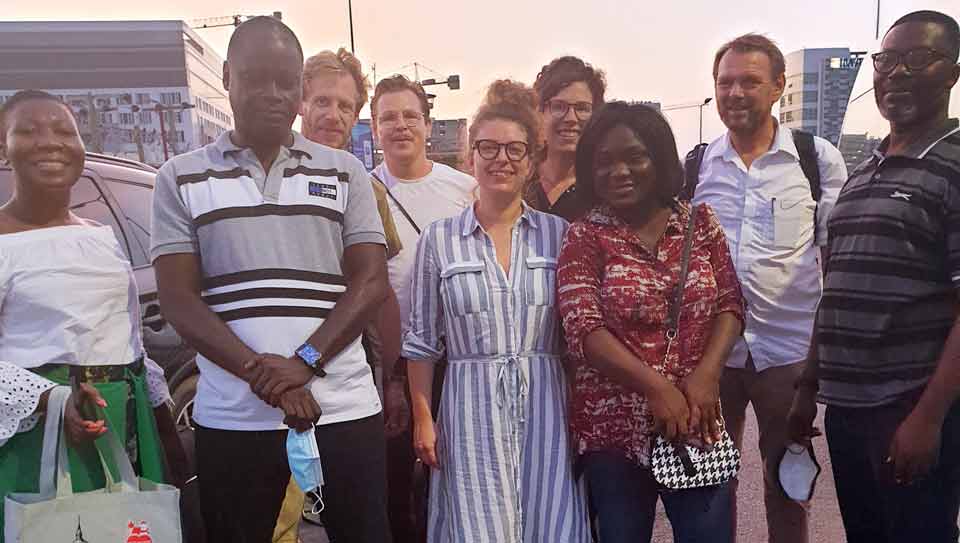 6 November: Farewell at the airport